---
Carpet Cleaning Went Wrong - EliPer - 08-19-2019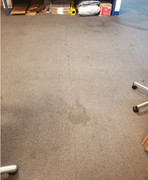 Hello I am new to the Forum

Please I need help with a problem I have. Two days ago I cleaned a very dirty commercial carpet using my Orbot Vibe and the Environ HP as liquid. First applied a pre-spray of the same Environ HP over the darker spots, let it work for a few minutes, then pre-agitated the carpet with a fiber pad,(AgiClean Pad) and then I passed it again with the superzorb pads.

But I do not know that I did wrong that once dry, appeared dark marks where the major stains were. I think Releasit Encap-Hydrox could help me remove the stains, but how would be the best way to apply it or should I use the Releasit Encap-Clean DS2. Please any advise what to do? Thanks


I attached photos of the place before work


---
RE: Carpet Cleaning Went Wrong - encapman - 08-24-2019

Yes, Encap-HydrOx normally makes a major home run on water stains. Mix it strong. Apply moderately with your Vibe, applying a very light amount of solution. Scrub the carpet slowly with your Superzorb pads (multiple passes). And then insure good ventilation to dry the area. Should alleviate the staining. Let us know how you make out.


---
RE: Carpet Cleaning Went Wrong - Rick J - 08-26-2019

It appears as if those carpets had a really really heavy soil load.
How many bonnets did you go through. ? Maybe just needed to change to clean ones more frequently, to remove all that soil.
I find that when cleaning using VLM and bonnets I go through many more than other seem to claim.


---